Contact Us
Front Desk 
Don't know where to start? You can always email or call our Front Desk, or stop by the Center in UAEC (next to Mesa Vista).
Monday – Friday
8 - 5 pm
Closed on all university holidays 
Email: asadvise@unm.edu 
Phone: 505-277-4621 

University Advisement and Enrichment Center (UAEC - Building 85)
Suite 135 (ground floor, behind the elevator)
Map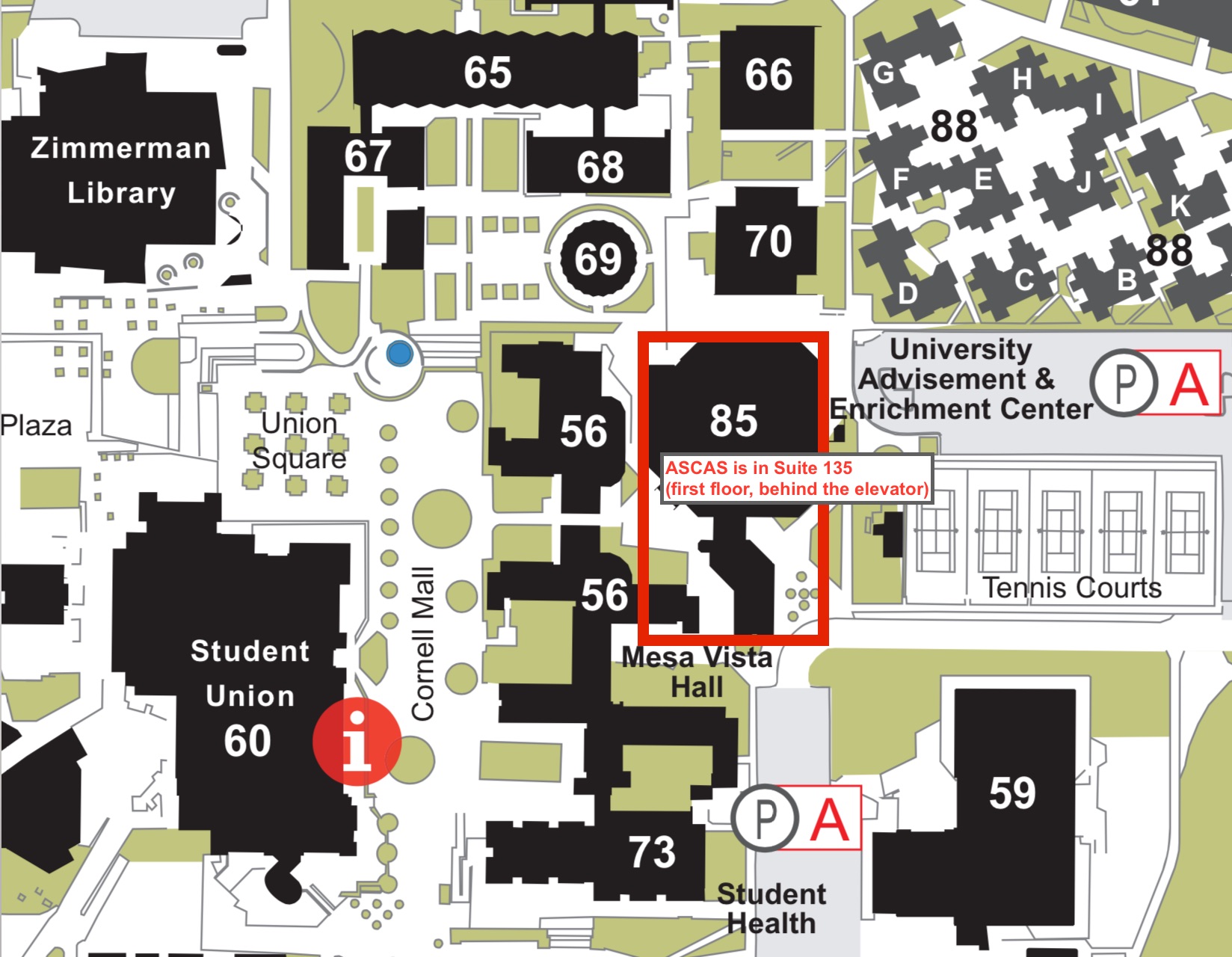 ---
Advising Appointments 
Each of our advisors supports specific departments. Each advisor has their own schedule, but most appointments are Monday - Friday between 8 am - 5 pm. Advising appointments are open to both current and prospective students.  
You can make an appointment and see each advisor's availability on LoboAchieve. 
Make an appointment ⇒ 
About advising ⇒
Majors, Minors, and Certificates ⇒
A&S Advisors ⇒
Advising Email Quick List ⇒
Advisement Registration Holds 
If you received an advisement hold when you tried to register, it is likely because you have not completed a required advisement workshop. These workshops are designed to help keep you on track toward completing your degree and to acquaint you with available resources at critical points in your academic career. 
The College of Arts & Sciences offers the widest array of academics at The University of New Mexico in the Humanities, Social and Behavioral Sciences, Natural Sciences, and Mathematics. We encourage you to explore our programs, get curious, ask us any questions you might have. 
Our Student Recruitment Specialist is happy to talk with you about undergraduate programs and opportunities in A&S via email, videoconference, phone, or in person if you're coming to campus. Email them at ascas@unm.edu to set up a time to talk. 
If you are currently a CNM student who wants to study the Humanities at UNM, you can receive research stipends, personal mentoring, and more! Email Danielle at dberrien@unm.edu to get connected with the New Mexico Humanities Now! program. 
---
Advising Email Quick List
The list below is a quick reference list of advising emails. If you do not see your program listed, please check the associated department or program for your major, minor, or certificate for the advisor name and email. If you cannot find your major or minor, or you wish to change majors or minors, please email asadvise@unm.edu for help.