Extending Humanities Transfer Program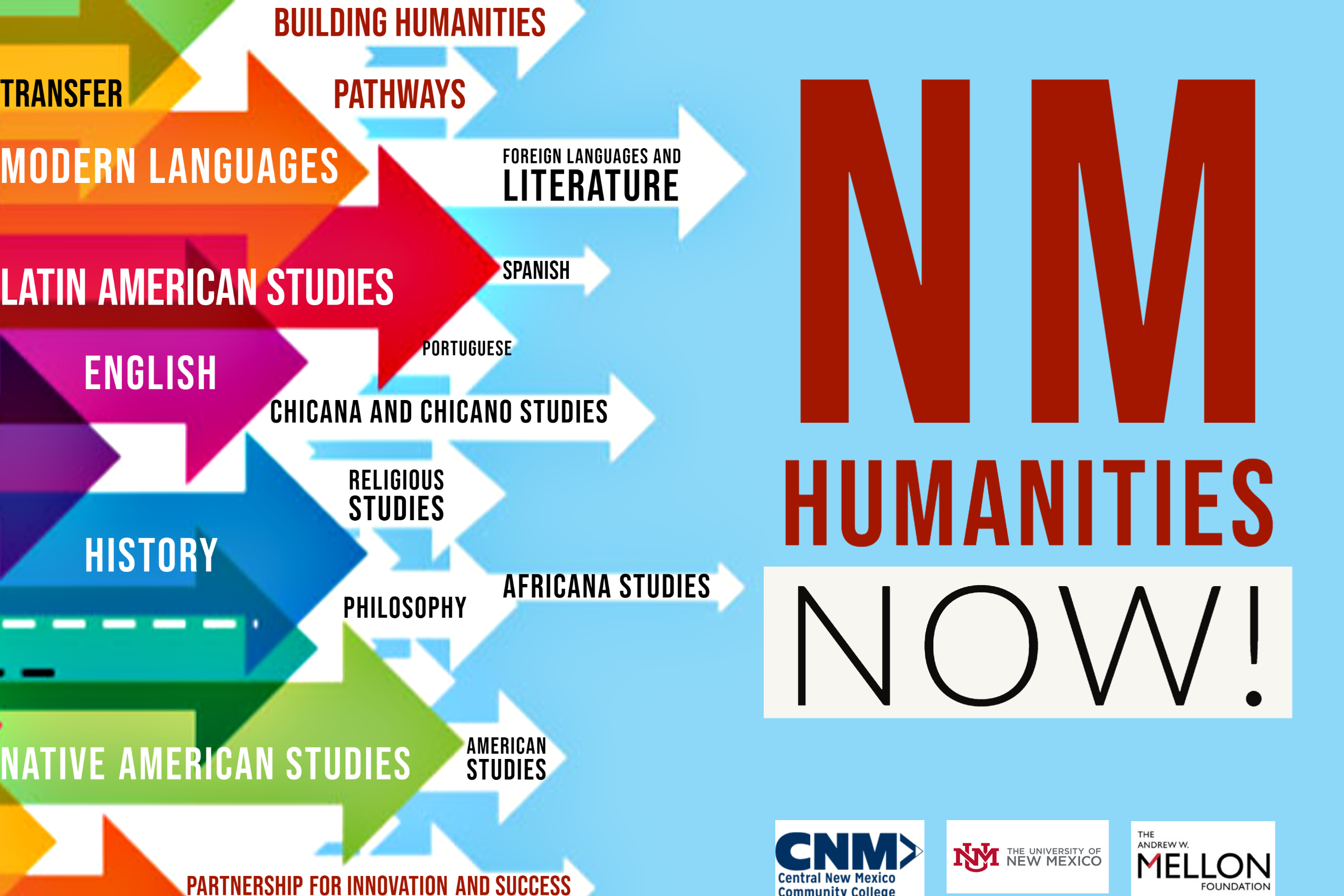 Want to transfer / transition to UNM-ABQ and study something you love? We can help!
What is Extending Humanities Transfer Program?
The Extending Humanities Transfer Program supports college students from Central New Mexico Community College (CNM) or from UNM-Valencia, Gallup, Los Alamos, and Taos make their transfer journey more smoothly to the University of New Mexico, Albuquerque campus (UNM-ABQ). This program is intended for those students who wish to transfer into UNM-ABQ Humanities majors (see majors list below). In addition to extensive support to guide you through the transfer process, Extending Humanities also provides:
Personal guidance and mentoring from current UNM-ABQ Humanities graduate students
Stipend money for Summer Academy at UNM-ABQ, where you can earn 6 credits toward your degree
Stipend money for assisting with faculty research
Educational programs and presentations 
Internship and research opportunities
Career exploration service
What are the Humanities and why should I study them?
The Humanities at UNM-ABQ encompass a wide and diverse set of majors. We believe that the Humanities offer valuable critical analysis skills and contribute to cultural innovation.
Explore how individuals and diverse societies, past and present, make meaning and assign value.
Explain how histories, cultural works, languages, and ideas shape diverse communities and relations between them.
Design ways of understanding diverse human experiences, including conflict and inequality, by examining cultural records.
Identify and analyze the sources of particular claims about human experience.
UNM-ABQ Humanities Majors
How does this program benefit me?
Breeze through the transfer process. Knowledgeable, experienced people work with you as you transfer, making the transfer experience easier for you. You receive personalized attention in every step of the process.
Maximize what you've already learned. Attend specialized events just for transfer students and learn how to apply your credits and acquired skills to academic, internship, and career possibilities.
Get paid to learn. We have summer study and faculty research assistance stipends available for Extending Humanities students.
Apply your knowledge. Gain research experience - a valued skill among employers and graduate schools - and explore different career options through specialized internship opportunities.
"Learn the ropes" of student life at UNM-ABQ. Your personal  Transfer Bridge Navigator can help you handle life at UNM-ABQ, empowering you with tips for personal and academic success at a large university.
Dig deep into your interests. Receive free admission to Humanities events and direct exposure to experts in your areas of study. Ask questions and make connections!
How do I work with a Transfer Bridge Navigator?

Email Danielle at dberrien@unm.edu to get connected with a transfer bridge navigator.
Your transfer navigator's goal is to guide you through the process of becoming a successful student at UNM-ABQ, connecting you with the people and resources to do so.
You will be matched with a transfer bridge navigator (like a mentor) as you transfer. Your TBN is a graduate student at UNM-ABQ, pursuing either a Master's or Ph.D. degree, and very possibly was a transfer student from a community college to a 4-year university, like you perhaps! They can give you tips on navigating the system at UNM-ABQ and they have the inside scoop on internship and research possibilities with UNM-ABQ faculty.
How can I participate in Extending Humanities?
The Extending Humanities Transfer Program is open to all humanities students transferring from CNM or UNM Valencia, Gallup, Los Alamos, and Taos to UNM-ABQ. Email Danielle at dberrien@unm.edu to start the process. We look forward to hearing from you!
What events are offered by Extending Humanities?
New webpage for Extending Humanities events and additional information is under construction. Please check back later! 
Contact Information

Danielle Berrien, College Arts & Sciences Transfer Education Specialist
dberrien@unm.edu
Danielle can help you learn more about the admissions/transition process to UNM, financial aid and scholarship possibilities, student support centers, etc. She can also connect you with your personal Extending Humanities transfer bridge navigator and put you in touch with your UNM major advisor. In other words, she helps get you to the person or resources you need for a smooth transfer journey!
CNM / SLA Outreach - Transfer Content Specialist (TBD)
SLA (School of Liberal Arts) helps CNM students find their way around CNM and lets them know about course offerings and events in CHSS, including all the happenings in the humanities and the Extending Humanities program.
Extending Humanities (Fall 2022)

:
Department

Faculty Member

Graduate Student

Adjunct

Chicana and Chicano Studies

Irene Vasquez

Steven Romero

Chicana and Chicano Studies

Jose Luis Serrano Najera

Jesus Tavárez

American Studies

Jennifer Denetdale

Tania Garcia

Native American Studies

Wendy Greyeyes

Eileen Mitchell

LeRoy Saiz

Latin American Studies

Kathryn McKnight

Kelsey Varisco

Foreign Languages and Literatures

Ian Stewart

Bonnie Benton

English

Melina Vizcaino-Aleman

Brandy Reeves

History

Melissa Bokovoy

Rachel Cassidy

Philosophy

Ann Murphy

Simon Walker

Spanish and Portuguese

Carmen Holguin-Chaparro

Mario Del Angel Guevara

Mellon Mays Foundation

Myrriah Gomez

Eileen Shaughnessy

Social Media Platforms

Andrea Abeita
Where can I connect with Extending Humanities (formerly NMHN) on social media?
Información en Español
¡Descargue el folleto en español!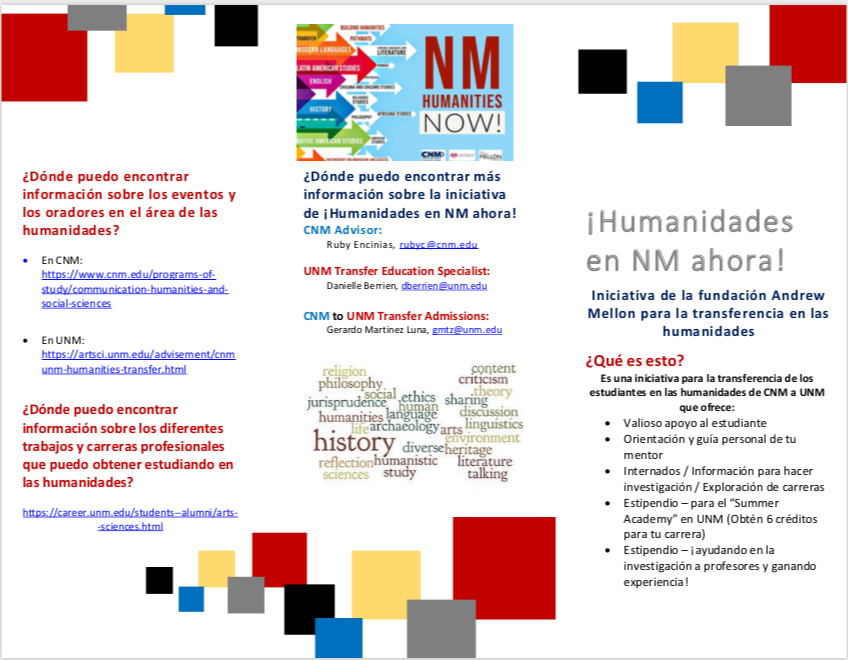 About the Andrew W. Mellon Foundation
The Andrew W. Mellon Foundation endeavors to strengthen, promote, and, where necessary, defend the contributions of the humanities and the arts to human flourishing and to the well-being of diverse and democratic societies. To this end, the Foundation supports exemplary institutions of higher education and culture as they renew and provide access to an invaluable heritage of ambitious, path-breaking work.
UNM is proud to partner with CNM School of Liberal Arts in this endeavor.